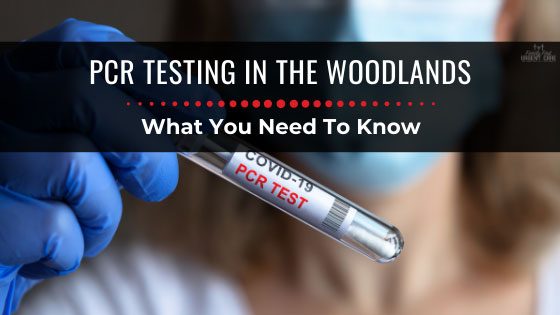 When it comes to detecting the presence of coronavirus, PCR testing is widely considered the gold standard by many healthcare professionals. As the pandemic has progressed, testing sites and opportunities have continued to grow. For those residents living in Montgomery county, PCR testing in The Woodlands is now available.
Before you go, it is important to know what PCR testing is, how it is administered, why it is important, and if it is available at an urgent care center near you. Taking the time to educate yourself in advance can ensure a smoother PCR testing experience from start to finish.
PCR stands for Polymerase Chain Reaction. It is a type of molecular testing performed to detect the presence of coronavirus in an individual. It is typically administered by inserting an elongated cotton swab into a person's nose and brushing it against their nasal passages.
It is possible for someone carrying the virus to have many, little, or no symptoms at all. The primary goal in administering PCR testing is to determine if either a symptomatic or an asymptomatic individual has COVID.
PCR testing can have two results:
Negative: A negative test result signals the absence of coronavirus in a person being tested. This could be simply because the individual does not have the virus, or it could mean they no longer have the virus.
Positive: A positive PCR test result signals the current presence of coronavirus in a patient. A person who receives a positive result will be asked to quarantine to contain the spread of the disease to others and may be prescribed medication as appropriate.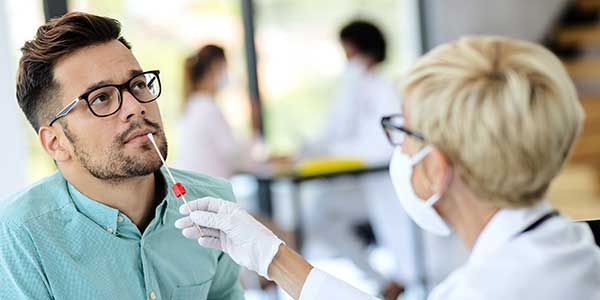 The amount of time it takes to get PCR testing results largely depends on if a person has a regular or rapid PCR test. A normal PCR test can take up to 72 hours for results while a rapid PCR test may take as little as fifteen minutes.
One thing PCR testing is not designed to do is test for coronavirus antibodies. A person with these antibodies is considered to have contracted coronavirus fairly recently but no longer has the virus. It is not yet known how recently the individual has to have had the virus for antibodies to still be found in their system.
Why Getting PCR Testing In The Woodlands Is Important
In general, PCR testing is thought to be one of the most accurate diagnostic tools in determining the presence of coronavirus in an individual. Getting PCR testing is important because:

It can help prevent the spread of the virus.
Asymptomatic individuals who are tested due to exposure through a close contact and receive a positive result can still help limit the spread of the virus by following CDC quarantine guidelines.

It could save lives.
If an individual seeks out PCR testing at the onset of symptoms or of possible exposure and quarantines until results are available (and after when appropriate), that isolation from others could potentially save lives.

It may be required to return to school in person.
If a student goes home from school with symptoms that could be associated with coronavirus, some school districts may require that a student receive a negative coronavirus test before they are able to return to school in person.

It may be required for some large gatherings.
Some large-scale events with large numbers of people could require a negative PCR test for admittance.

It can be required for some travel.
As states and foreign countries slowly begin opening back up, some destinations are requiring PCR testing before and after a traveler's arrival.
As the world aims to return to a pre-coronavirus era, there will likely be some growing pains. The return of children to school, people to work, and travelers to public transportation will likely require PCR testing from time to time.
PCR Testing in The Woodlands
With an estimated population of more than 100,000 residents in The Woodlands, a twenty-eight thousand plus acre master planned community almost thirty miles north of downtown Houston, there is a great need for PCR testing.
The Woodlands is a popular destination for business executives, vacationers, shoppers, golfers, and many more. With attractions such as state-of-the-art convention centers, luxurious spas, five-star restaurants, and shopping galore, this community sees thousands of visitors each year. Whether you live in The Woodlands, are visiting for the day, or are coming to stay for a few days, knowing there is PCR testing availability nearby can give you valuable peace of mind.
One of the fastest ways to get PCR testing and results can be to visit a local urgent care. If visiting an urgent care for PCR testing, be prepared to: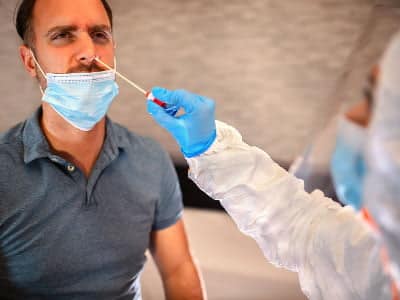 Observe CDC social distancing guidelines

Answer detailed questions about your health

Follow guidelines presented regarding diagnosis and quarantine
If you live in or near The Woodlands, find some peace of mind in the fact that PCR testing is as near as the local urgent care center.
Latest posts by Family First
(see all)